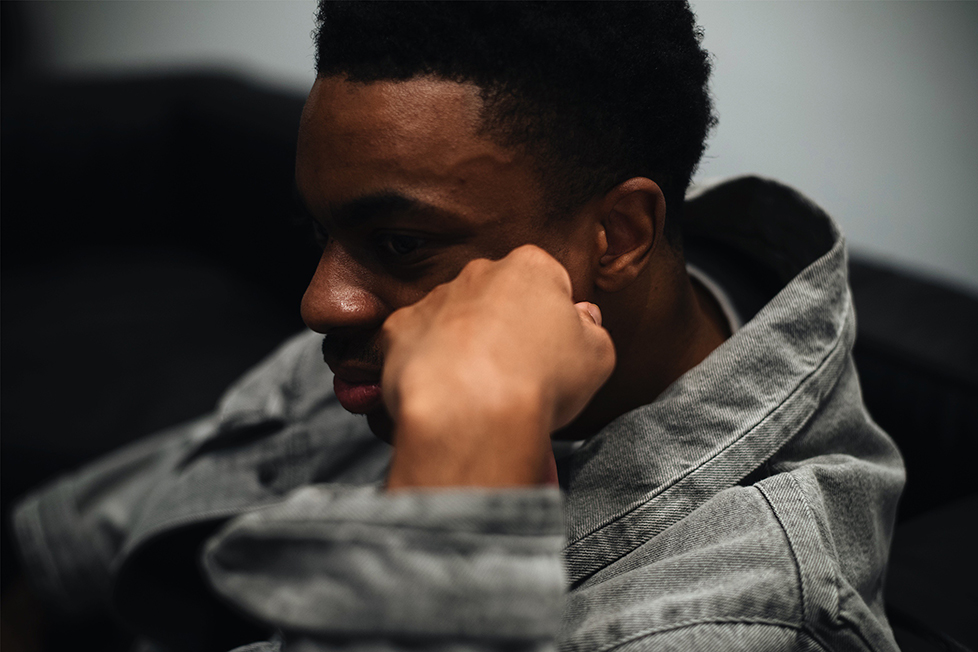 Earlier this December, music and culture web magazine Hip Hop DNA has hosted their 3rd live event, HIP HOP DNA: THE LIVE with Vince Staples. To be accessible even to younger generation, the event started at 4pm(and for free entrance) this time. Although Staples was born in Compton where we could stereotypically imagine the words "thug life," he has been living a straight edge lifestyle. Knowing how awesome he was on the stage at Fuji Rock Festival this year, we just wanted to know more about himself. However, we skipped talking about some serious topics or deep into his music(because other music media would.) We sat down and had super laid back conversation that no other media out here would have(because it's so irrelevant), but his positive messages are also present in the conversation. Hope you can feel who he is from this and enjoy.
Q.Since Mastered is a fashion website, let us start with simple fashion question. What's your favorite apparel brand?
Vince:I wear everything. I like regular white T-Shirt, like ones from UNIQLO UT. Small or medium, depending on how big my pants are. I have lots of STONE ISLAND pants. I don't know why but I watched lots of action movies when I was a kid. So I think "let's save the world and be the army" type of stuff I've got going on, yea. I like STONE ISLAND, I like UNDERCOVER, MARTINE ROSE, and KAPITAL.
Q.So you know what's going on in fashion. That's cool. How do you describe your fashion style? Who's your outfit inspiration?
Vince:Old people.
Q.Old People! Wow, yes, some peopel really own their styles.
Vince:Yes, you know, old men style is just next level. You see old people walking on the street in old people style, and you can tell they've been dressing like that for really long time. So I look at old men style and say "okay, that's just YOU". They might throw a crazy hat on there or crazy pants patterns in there, so I really like old people's dressing. I think old people are the best dressed people. They don't spend any money either, they just have them for a long time. How cool is that?
Q.So you wanna be that person in next 30-40 years.
Vince:Yea, I'm trying. Hopefully I'd stay in the same size and all. Have normal clothes and it'll be vintage after 20 years.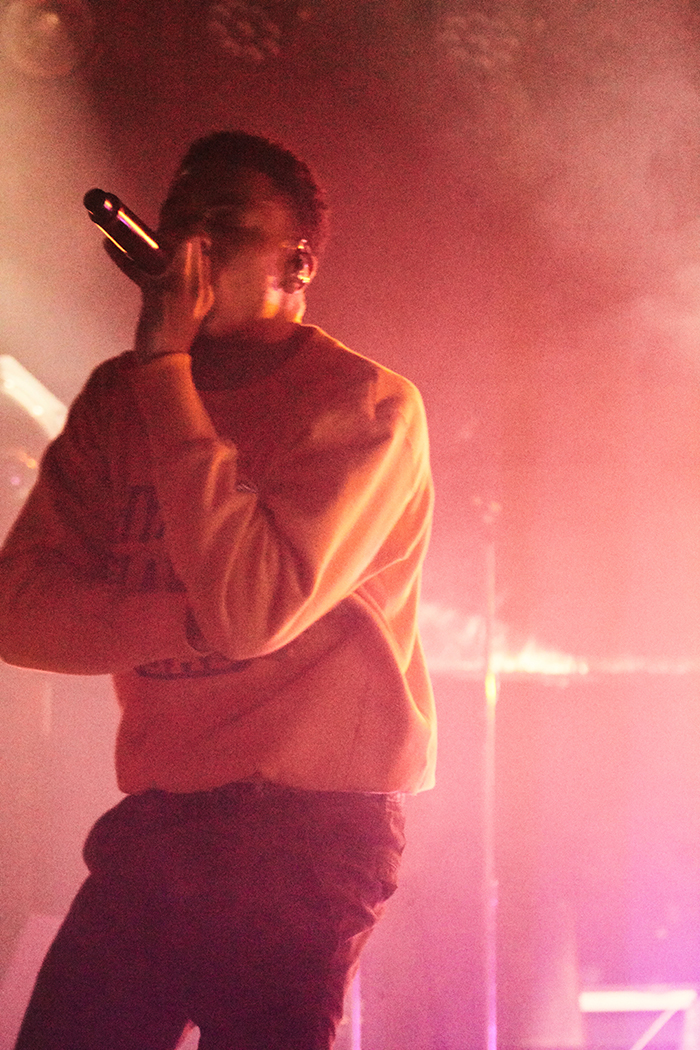 Q.How does your music career affect to your lifestyle?
Vince:Music is easy. I feel like music is just another thing what people create in general. I feel people are taking it too seriously sometimes nowadays. I think it's important for people to consider themselves being creative, and you know, I want kids to be creative one day no matter what they do for living and have fun. If you watch any documentary of someone doing great, they'd always tell you they started because they just wanna have fun and do something new. Came out of passion. That's we should focus on. The success of it or what I get from it, is just what gives me a peace of mind financially, like you don't have to live crazy. Music lets me going to the movies by myself at 1 o'clock in the afternoon by myself. Things like that. I live quite simple life.
Q.What motivates you?
Vince:Just life. You know, motivation is overrated. Last time I thought about motivation, it seemed really agressive like ™oh, I a have chip on my shoulder," "I have to make the best stuff," but men, fuck that. Let's be happy, just have a good day. I just trying to see tomorrow, try new things. I like making mistakes, like I've made songs that are horrible or made videos I don't like, then I learn from it. I just like to learn from things I did yesterday, you know.
Q.Just being positive and live a life.
Vince:Yea, exactly. I was being really negative for really long time.
Q.Really?
Vince:Yes, maybe from 4th grade to 21. I've got torn down, I was going through some wild shit. But then one day, I was like "this is stupid," and you know music was a big part of it. Music showed me the world in a better way. And when you see the world, it makes things around you less stressful.
Q.That's really nice. So enjoy making music, live a pretty simple life and be positive. That's you now?
Vince:Yea, I'm not super famous so,,,
Q.You ARE pretty famous.
Vince:But not SUPER famous. I go to Target, I go to Walmart, I go to Starbucks, by myself. I don't need a security guard and live in a big house in a suburb. I don't want that life.
Q.No huge mansion?
Vince:Nah, I don't wanna get lost in my own house. I don't wanna see spiders. I'm afraid of spiders.
Q.Haha. I've heard some people open their mouths while they are sleeping and they accidentally eat spiders.
Vince:What? Maybe I would eat prepared spiders tho, like a tarantula. If their legs are fried like Burger King chicken fries?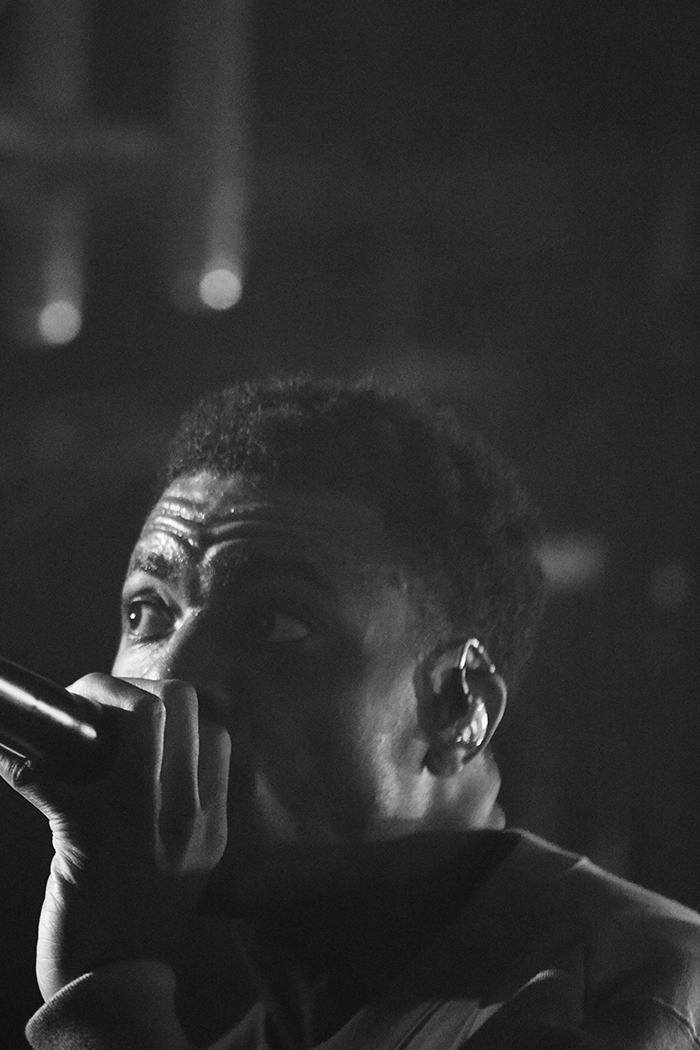 Q.Hahaha, What was the most crazy thing you've eaten then?
Vince:I ate a live sea urchin. It was a sushi place out here in Japan. It came with the shell, and when the guy flipped it, it was still moving, he said "eat now!" so I ate it!
Q.Fresh out of water I guess. Did you like it?
Vince:It was disgusting.
Q.Hahahaha.
Vince:Not because I ate it alive, I just didn't like sea urchin. I'm more like sashimi kinda gal, you know?
Q.Hahaha. Japan does have many live seafood dishes.
Vince:This is my thing. I might sound crazy but if you gonna eat animal, right? Would you rather it not have been dead that long than has been dead for 2 weeks?
Q.Yea, make sense. It just,
Vince:Sounds gross, right?! But what's what we do. We have to deal with it when eating animals. We are eating corpes, basically. But,,, I like vegetables.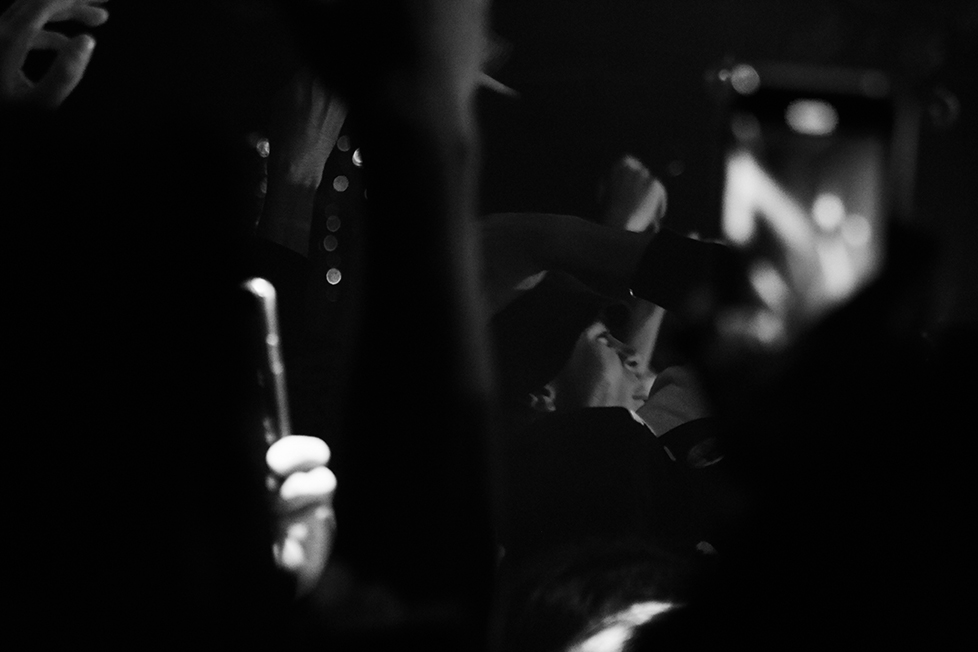 Q.Oh then I have to ask you what your favorite vegetable is.
Vince:Do you know what's vegetable and what's fruit? Fruits have seeds. Tomatos or paprikas, they are fruits. I like cabbege, I really like onions… Do you know what legumes are?
Q.Legumes?
Vince:Okay so boom! Make sure this is the headline for this interview. Almonds are nuts, cashews are nuts, they are legumes. They are basically beans, but a bean,,, is not a vegetable. But, if you go to a produce section with the vegetables, you know what you find? …Legumes!
Q.Hahaha.
Vince:Also bananas have seeds in them, but we are eating fake alien bananas. Alien bananas are for people to eat. That's why it doesn't taste like anything, so I don't like bananas. I really like spinach. So to answer your question, I like spinach.
Q.Thank you professor.
Vince:Yea, no problem. But a banana, it's not real.
Q.Have you eaten real bananas, Sir?
Vince:No, but I'd eat it if it's real. You know those banana flavored candies and they don't taste like bananas? It's because it taste like original bananas that we don't get to eat. Bananas out there are the fake, you know what I'm saying? Be careful man.
Q.Haharaha. Will do, thank you. The next random question is this. What made you upset recently?
Vince:Well, coyotes around my house are eating wild rabbits and leave them on the street. That's upsetting. Also recent rain and cold weather in California. What else upsets me… Oh, Thanksgiving. I hate Thanksgiving.
Q.Why not?
Vince:It's the worst holiday ever. For one, food is not that good, it's gross. For two, it's pressure to see you family although the real holiday season is just around the corner. For three, it's Thursday. Thursday is just not a cool day. For four, everything is closed. What if I don't wanna eat turkey, right?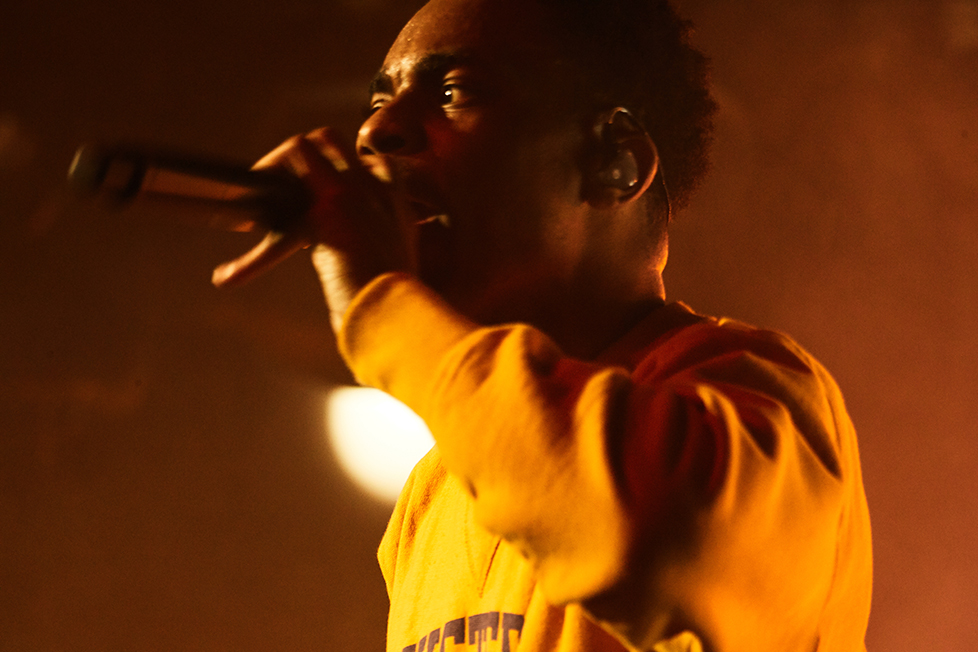 Q.Okay, well understood why you don't like Thanksgiving. Next question would be how do you see young generation in Tokyo compared to the kids in California?
Vince:Oh ya'll way cooler, cause we suck, we all look stupid. Like, the way you guys wear socks is crazy. The uniqueness, and the willingness to look however you wanna look, do whatever you wanna do. I feel like it's more appreciating. Back home, or all over America is vary social media driven. The pressure on these kids. They feel like they have to be specialist, expect falling into the scene right away instead of finding who they are, figure it out. Of course I don't know much about being a youth in Tokyo, but from what I've seen from friends I have, everybody is cool about figuring the path, who they are, who they wanna be. And I think that's how a kid should be, being able to take time, figure out, and have fun.
Q.Really appreciate you saying that. This is our last question. What's your new year's resolution? it's already December.
Vince:Shit.
Q.You'll be 27?
Vince:Oh yea I'm old. I feel old. Remember when you were like 13, you could be wide awake at 2 in the morning? Now get tired and shit. Man, I'm old. I think my new year's resolution would be "take more nap."
Q.Hope you will have many sweet dreams next year.